Mission
Increase awareness of youth experiencing homelessness and advocate for them.
Vision
Prioritize awareness as a collective group
Amplify individual and collective voices 
Seek and live your truth
Advocate for workforce and housing availability for said youth 
Create a connection to those affected by homelessness to key lawmakers and decision-makers directly involved 
Political involvement by advocating for equitable funding that is responsive to the needs of youth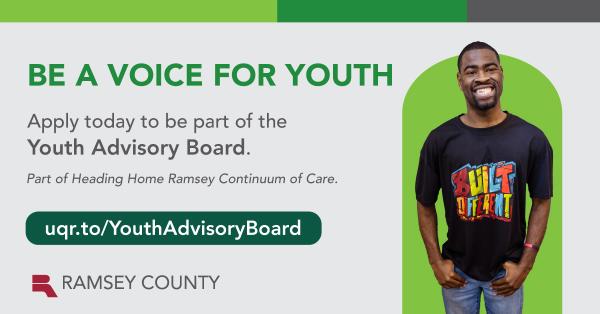 Interested in being a voice for youth with lived experience of homelessness and making a difference? Apply to join our Board!
Criteria to join are:

Must be 16-25 years old - if in school, must maintain a "C" average
Must have a lived experience of homelessness or working with homeless youth
Must be able to consistently attend YAB meetings and events or give ample notice of absence

Communicate to Director of Communications and Marketing within 24 hours
Must be sober while in attendance to all YAB sanctioned meetings, events, and outings
For more information, email [email protected] or call 651-392-0033.